What Do You Do When You Get Into an Accident?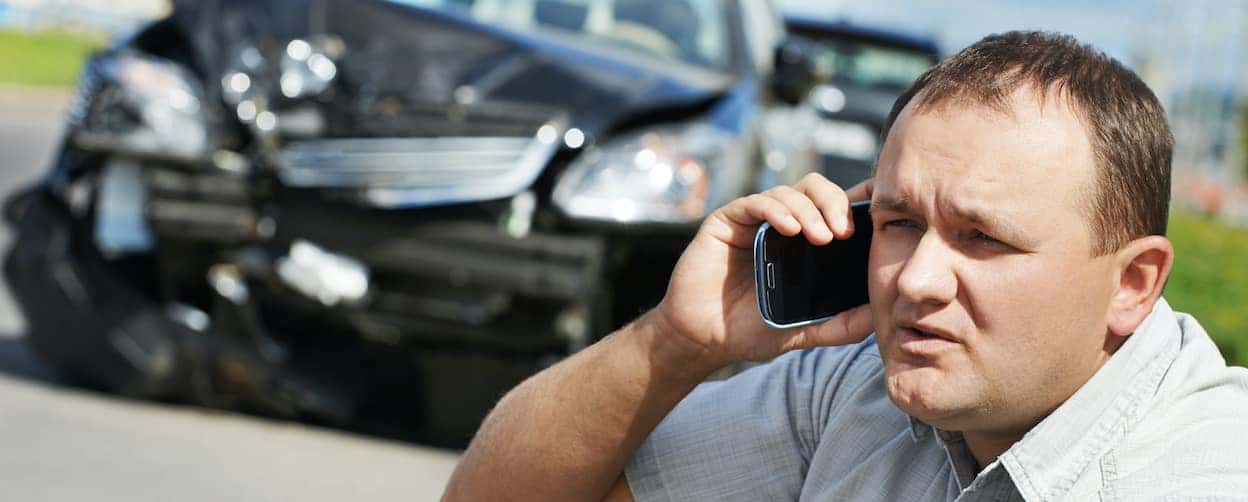 Whether you've been in a minor fender-bender or a major collision, it is important for Calgary drivers to know what to do after a car accident. Any kind of car accident can be traumatic, but you need to do your best to remain calm and do the right thing. In this guide from Capital Chevrolet Buick GMC, we'll walk you through the steps you should take in the event of an accident, and if it turns out that you need to have your vehicle repaired, you can rely on the certified technicians in our Collision Centre.
Minor Accidents
A minor accident is one where there is limited damage to the vehicle, and where there aren't injuries to involved parties.
Check to see if you are injured or need medical attention

. Then, you should check the condition of others involved in the accident. If anyone is injured, you should call an ambulance immediately.

If you are able and it is safe to do so,

pull your vehicle off to the side of the road

so you're not blocking traffic.

After getting your car to a safe spot, you should

call the police, even if the other driver or drivers involved tell you not to. Ask for a copy of the police report and file number. In Calgary, collisions must be reported to police when there are any injuries, damage exceeds $2,000 or you are the victim of a hit and run. If there are no injuries and the vehicles are driveable, you can report the accident to the district office.

After notifying the police,

exchange information with the other driver

. This includes phone numbers, email addresses, insurance info, and licence plate numbers. You should also get the names and phone numbers of any witnesses.

Once you have exchanged the essential personal information, you should

assess the damage to your vehicle,

as well as the damage to the other vehicle.

If the total damage to all the vehicles and property appears to be more than $2,000

,

you must go to a police station and file a Collision Report Form

. 

Last but not least, you should call your insurance provider. Even though they will receive a police report of the accident, it's important you get the details to them as soon as possible. The Capital Chevrolet Buick GMC Collision Centre works with 14 major insurance companies, so we can help guide you through the process of working with your insurance provider to get repairs.
Major Accidents
A major accident is one where there are injuries/bodily harm to individuals involved.
Call 911

for an ambulance right away. Don't bother trying to exchange personal information if you or another person requires immediate medical attention. The police will document the scene and gather information. 

Next,

contact your insurance provider

and describe the details of the incident. 
Even if you feel as though you came out of the accident unscathed, it is a good idea to follow up with your physician, as there might be injuries that are not readily apparent.
Calgary Police Service: Collisions Information
Filing a Car Accident Insurance Claim
If you are not certain of what your insurance policy covers, ask your insurer. More often than not, you will be referred to a trained claims advisor who will help you with filing your claim. In general, as long as you have all the correct paperwork, filing a claim should be easy. Here's what you'll need:
Your insurance policy number

Detailed description of how the accident occurred

Date, time, and location of the accident

All the contact and insurance information from other involved parties

Name of the police department involved, as well as a copy of the police report or file number
Once you submit all of the necessary paperwork, an insurance adjuster will evaluate the damage to your vehicle, provide an estimate of the cost of repairs, and let you know what your insurance company will cover. 
Repairing Your Vehicle
As stated earlier, you must file a Collision Report Form with the police if the damage is estimated to be more than $2000. You will then be given a damage certificate, which is required before any auto body shop can start to repair the car. Bring your vehicle to the Collision Centre at Capital Chevrolet Buick GMC, along with the insurance claim information. If the car is undriveable, we can arrange to have it towed for you. We will then inspect the vehicle and provide you with a free estimate. If you agree to our estimate, we will order the parts needed and get to work restoring your vehicle to like-new condition.
Get Professional Auto Body Work Done at Capital Chevrolet Buick GMC
The state-of-the-art Capital Chevrolet Buick GMC Collision Centre can handle any auto body work, from minor dents and dings to major collision damage. We work on all makes and models, and we also will handle insurance paperwork, so you can count on us to make the entire process easy and hassle-free. Contact us online or call us at 403-570-2028 to schedule a free estimate. 
---
More from Capital Chevrolet Buick GMC
The spacious and refined 2021 Chevrolet Tahoe interior makes this full-size SUV an ideal choice to upgrade your Strathmore commute. Whether you choose the basic interior or a loaded Tahoe leather interior, you'll enjoy seating for up to nine passengers, 3,480 litres of maximum cargo space, and a wide array of convenient features. Learn more…

Powered by a turbocharged engine, the 2021 Chevy Equinox delivers strong performance across its lineup. In addition to providing plenty of get-up-and-go, the Chevy Equinox gas mileage will help you save on long drives around Strathmore. Learn how the Chevy Equinox fuel economy and engine specs can enhance your Calgary-area driving experience, and then book…

Shopping for a compact SUV that delivers turbocharged power and impressive fuel economy ratings? You'll find that the 2020 Chevy Equinox gas mileage helps you save on long drives around Strathmore. In fact, the entry-level Equinox LS gets 8.9L/100km city and 7.7L/100km highway, which makes it one of the more fuel-efficient options in its class….