Buy the All-New 2023 Corvette Z06 in Calgary, Alberta

Buy the All-New 2023 Corvette Z06 in Calgary, Alberta
Are you thinking about buying a sports car this year? Consider test-driving the 2023 Corvette Z06 upon its arrival right here at Capital Chevrolet in Calgary, Alberta. Corvettes are still very much popular for a good reason. They are not only attractive, but they also back up their good looks with a lot of power under the hood. This new and upcoming high-performance Corvette model is better than ever and represents a crowning achievement for Chevrolet. Here's what you can look forward to!
The Z06's Outstanding Performance
It is hard to deny that the 2023 Z06 is a beast in terms of performance. While the standard Corvette does well with its 6.2-litre V8, the Z06's 5.5-litre engine amps up power to 670 horsepower and 460 lb-ft of torque. It redlines at 8,600 rpm, which is 2,100 rpm above the regular Corvette. Power gets directed to the rear wheels by way of the eight-speed dual-clutch transmission, but the Z06 has a shorter drive ratio than the standard Corvette, which results in swifter acceleration. The 2023 Z06 also comes with wider tires, a huge adjustable spoiler, special front and rear fascia, and enhanced six-piston front and four-piston rear Brembo brakes, as well as adaptive suspension dampers.
2023 Corvette Z06 Interior Elements
The 2023 Corvette Z06 is nothing short of comfortable, with a significantly more luxurious interior design than the outgoing model. On the 2023 lineup, you get a touchscreen that is angled toward the driver and an arched control panel that divides the driver and passenger. There is a good amount of sleek faux suede and leather throughout the cabin and the brand-new carbon-fibre package tacks on an abundance of sporty lightweight material inside of the Z06.
2023 Corvette Z06 Interior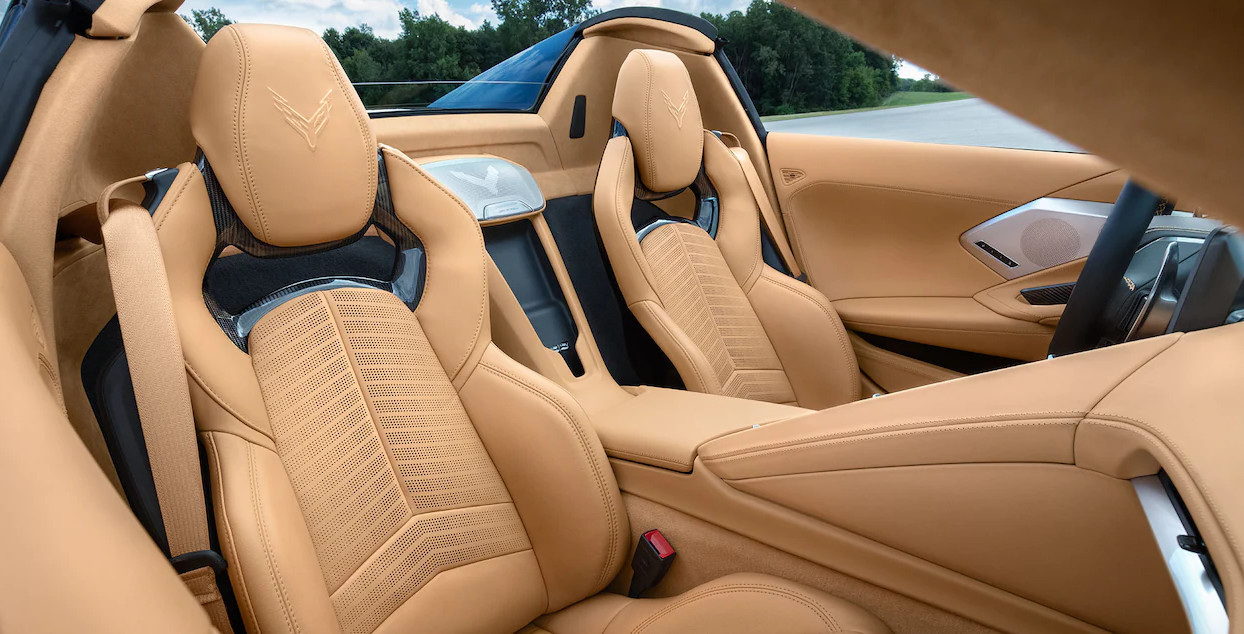 2023 Corvette Z06 Exterior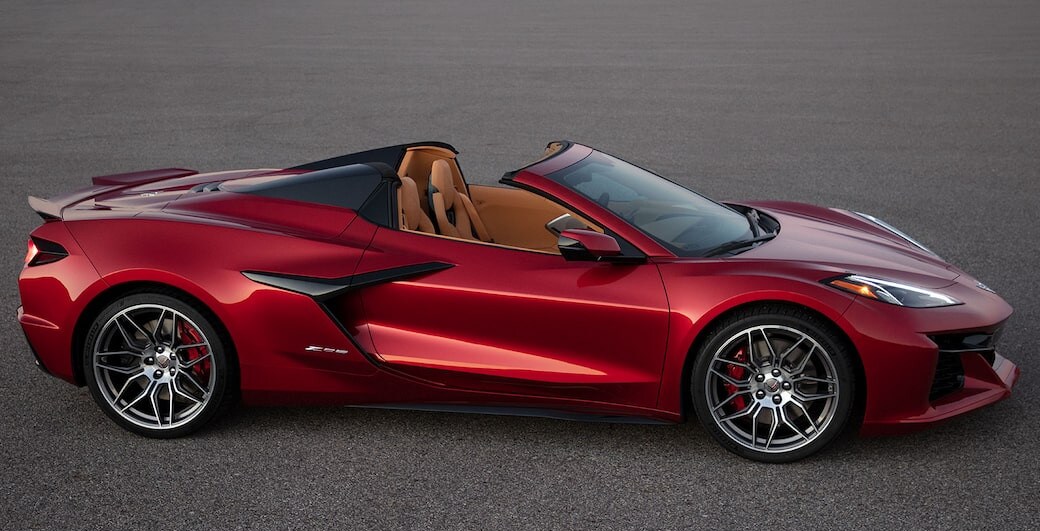 2023 Corvette Z06 Exterior Stylings
The 2023 Chevy Corvette Z06 is just as stylish on the outside as it is on the inside. With numerous aerodynamic upgrades having been made for this model year, the Corvette is now more worthy than ever before. The 2023 Z06 can come in an array of sporty, eye-catching colours, from a vibrant orange or a sleek metallic yellow to a stunning metallic blue or a fiery red. There are many ways that you can customize the outside of this Corvette, and you get standard LED headlights for enhanced visibility and a more modern look.
Available Z06 Trim Levels
There are six different configurations for the 2023 Chevy Corvette Z06. You can take your pick from the 1LZ Coupe, 2LZ Coupe, 3LZ Coupe, 1LZ, 2LZ, or 3LZ. The first three have the coupe body style, whereas the other three are styled in the well-loved Stingray manner. The 1LZ has leather seats, smartphone app integration and a 4G LTE Wi-Fi hot spot. The 2LZ upgrades the vehicle to a navigation system and adds a 14-speaker Bose audio system. The highest trim, the 3LZ, comes with premium leather upholstery and GT2 sport seats.
Get Your 2023 Corvette Z06!
Contact us for more information on the availability of the 2023 Corvette Z06 and to start your purchase process. We have multiple ways for you to finance your purchase, and you are welcome to offer your current ride as a trade-in to be applied towards your purchase of the new 2023 Corvette Z06.